X Ray Inspection System,Container & Vehicle Scanner, Under Vehicle Scanning System,
Explosives and Narcotics Detection, Liquid Scanner,Walk Through Metal Detectors, Explosive Disposal Device
Copyright © 2015 Security Electronic Equipment Co.,Ltd. All Rights Reserved
Walk through metal detector with thermal camera and LCD display
metal detector with thermal camera and LCD display
Chat Now!
Temperature & Metal Detector Gate Model SPW-IIIDT
Highlight:
Fast broadcast visitor temperature;

Smooth Traffic, no need to wait;

Automatically track moving people faces.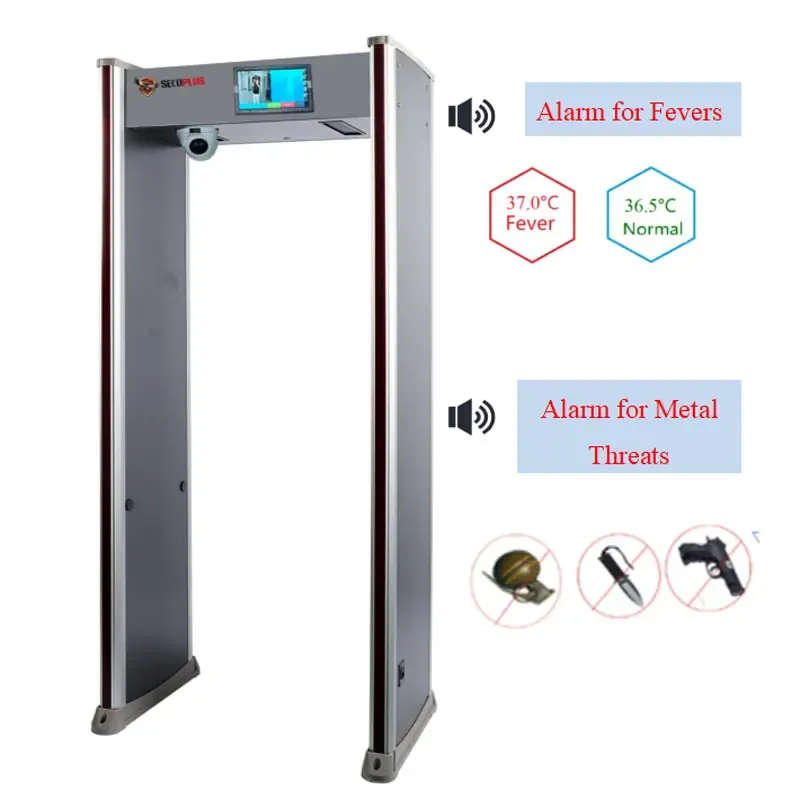 ◆ Alarm for Metal threats:
Multiple target locations from head to toe;

6/18 zones overall inspection;

Extremely high sensitivity to detect tiny threats;

Shock proof to avoid false alarm;

Automatically adapt to Environmental magnetic field;

Alarm lights show different threat level.
◆ Alarm for Fever Visitors:
Accurately test body temperature;

Non-contact fast detect temperature;

Show temperature and alarm for fever;

Actively track moving people's face;

Temperature deviation: 0.3 ℃;

Distance: 0.8-3.0 Meter

Working temperature: -10 to 50 ℃
◆ Characteristic:
High resolution monitor show visitor photo and temperature.

Automatically detect temperature, no need waiting;

Quick response, detect body temperature in 1 second;

Audible alarm for high temperature passengers;

Non-contact temperature sensor, avoid cross infection;

Indoor use, please avoid high temperature and direct sunlight;

Can detect ferrous and non-ferrous metal articles.

Four light bars show metal threats location, visible from any angle;

Metal Detector sensitivity adjustable from 1-300;

Different volume alarm for metal threats;

Alarm language: English, French, Italy, German, Spanish, German, Traditional Chinese

7*24h Non-stop working

Easy installation
◆ Technical Specification:
Electrical current: AC100V~240V 50/60Hz

Power:15W

Work environment: -10℃~+50℃

Gross Weight: 95kg

Outer frame: 2220mm (h) *820mm (w) * 522mm (d)

Inner frame: 2000mm (h) * 700mm (w) *522mm (d)
Corresponding parameter set not found, please add it in property template of background
暂未实现,敬请期待
SPT-2020A7 Thermal intelligent temperature system