Walk through metal detector with therm camera and LCD display(baggage screening equipment)
metal detector with thermal camera and LCD display
Temperature & Metal Detector Gate Model SPW-IIIDT
baggage screening equipment
Highlight:
Fast broadcast visitor temperature;

Smooth Traffic, no need to wait;

Automatically track moving people faces.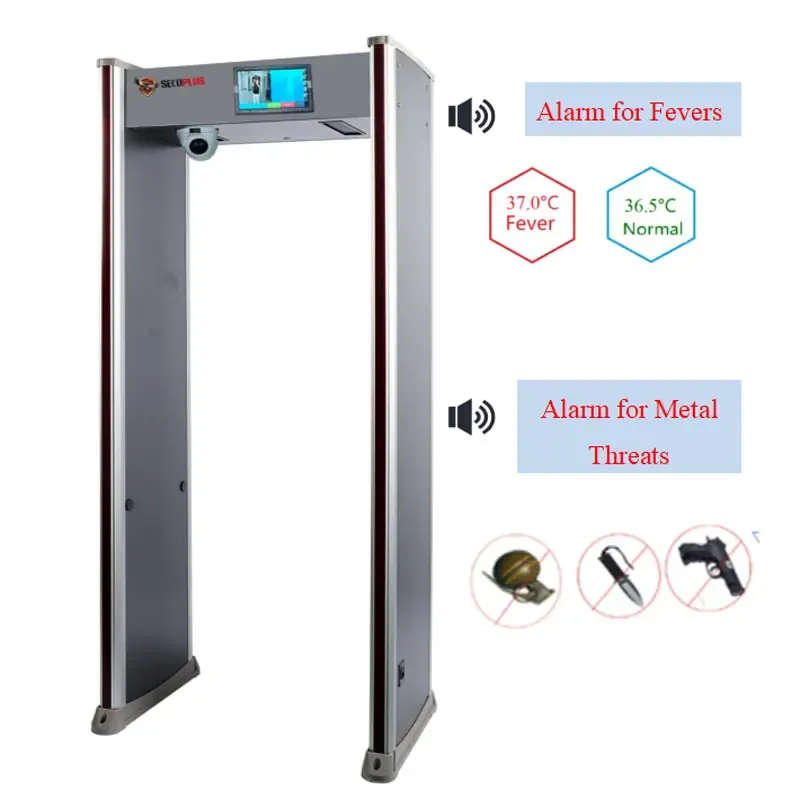 ◆ Alarm for Metal threats:
Multiple target locations from head to toe;

6/18 zones overall inspection;

Extremely high sensitivity to detect tiny threats;

Shock proof to avoid false alarm;

Automatically adapt to Environmental magnetic field;

Alarm lights show different threat level.
◆ Alarm for Fever Visitors:
Accurately test body temperature;

Non-contact fast detect temperature;

Show temperature and alarm for fever;

Actively track moving people's face;

Temperature deviation: 0.3 ℃;

Distance: 0.8-3.0 Meter

Working temperature: -10 to 50 ℃
◆ Characteristic:
High resolution monitor show visitor photo and temperature.

Automatically detect temperature, no need waiting;

Quick response, detect body temperature in 1 second;

Audible alarm for high temperature passengers;

Non-contact temperature sensor, avoid cross infection;

Indoor use, please avoid high temperature and direct sunlight;

Can detect ferrous and non-ferrous metal articles.

Four light bars show metal threats location, visible from any angle;

Metal Detector sensitivity adjustable from 1-300;

Different volume alarm for metal threats;

Alarm language: English, French, Italy, German, Spanish, German, Traditional Chinese

7*24h Non-stop working

Easy installation
◆ Technical Specification:
Electrical current: AC100V~240V 50/60Hz

Power:15W

Work environment: -10℃~+50℃

Gross Weight: 95kg

Outer frame: 2220mm (h) *820mm (w) * 522mm (d)

Inner frame: 2000mm (h) * 700mm (w) *522mm (d)
Messages
If you have any good suggestions and opinions on our company, or want to consult our products, please fill in the form below, and we will contact you as soon as possible!
WhatsApp:
+86-13480182964
X Ray Inspection System,Container & Vehicle Scanner, Under Vehicle Scanning System, Explosives and Narcotics Detection, Liquid Scanner,Walk Through Metal Detectors, Explosive Disposal Device